Impress
This chapter will tell you how to use the Impress web service in order to view and share content from pCon.planner.
This EasternGraphics service is an easy way to sharing content from pCon.planner with other people.
Impress is web based, free of charge and can be used on both computers and tablets quite independently of the operating system. See this video to get a first impression of impress.
To use Impress, you need a Dropbox or Microsoft OneDrive user account which will be used as the storage backend for your presentation content. This lets you decide for yourself who shall have access to your content. In impress, you enter the public file link to your respective media file.
In addition, alternative links to impress content, such as from a company's own server, also work.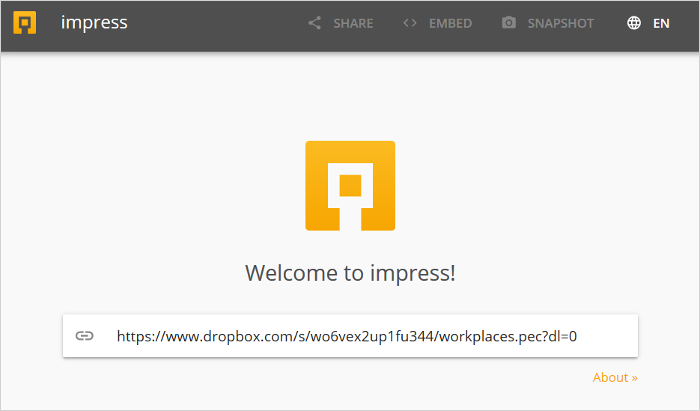 Media Types
You can use panoramic images, Multi Content Pictures, Multi Content Panoramas as well as 3D models with impress. Also use impress to share augmented reality (AR) files from pCon.planner for viewing on Android or iOS devices.
Panoramic images of your plans can be created in the Image dialog of pCon.planner. impress opens spherical panorama images filed as PNG or JPG.
Multi Content Pictures as well as Multi Content Panoramas are generated in pCon.planner and can be transferred to impress in the EIMG format.
3D models are displayed when you upload PEC files into impress.
Send augmented reality content to AR-enabled mobile devices using a shared link. AR files cannot be viewed directly in impress.
Sharing Content
Share: Use the Share feature to generate a link that can be sent to partners, customers and friends.
Embed: Click Embed to receive a code snipped that can be used to integrate your media in a blog post or post them to a web site.
Snapshot: Create an image of the current view by clicking Snapshot.