Sharing CAD models
On the Presentation tab, you will find the following symbol:

. Clicking on this symbol will open the Share 3D dialog.
With this feature, you can provide your employees and clients with an impress link of planning details, individual furniture models or entire plans.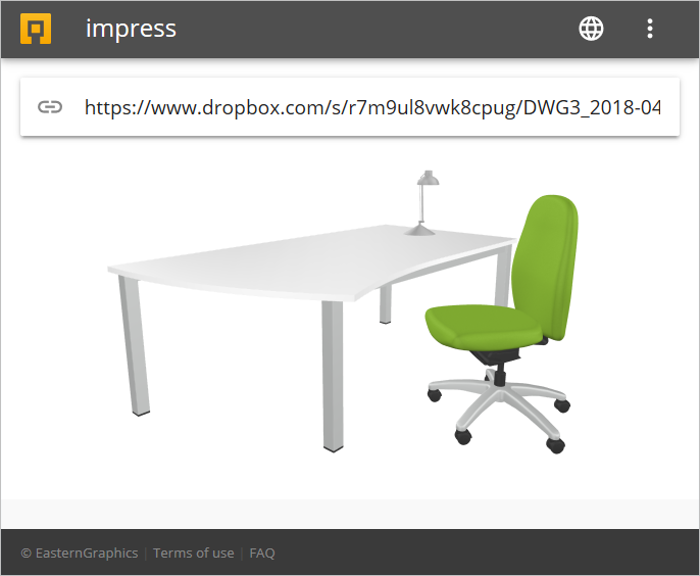 The service is based on the connection to a cloud server. For this feature, you are able to choose which cloud provider you would like to use. More information in the Share chapter.
CAD Models are uploaded from pCon.planner onto the Cloud. You will receive a concrete link you can share. The link can be passed on, giving others the ability to view the model online quickly and without the need to open further applications or navigate through the presentation.
In this section, you will learn how to share a CAD Model online.
1.The process always begins with the selection of the desired object within the plan. You also have the ability to select and export the entire plan as a CAD Model. To do so, press Ctrl and A at the same time. This will select all content, which can then be uploaded as a model.
Please note: If possible, your model should be no bigger than 10 MB. Otherwise, the model will load very slowly in the browser. From a size of 15 MB on, the model's appearance will be distorted. The size of the model will appear in the upload dialog.
2.Next, open the menu Share by clicking

.
3.You have two options for sharing your selection:
•Share 3D: opens the Share dialog.
•Export 3D for Impress: Export a PEC file that can be saved locally and shared.
Following a click on the icon Open in Impress

, the CAD Model will appear in impress. Here you can zoom in on the model, rotate it, or change the point of view. The navigation options can be executed as follows:
Rotate

Mouse: Click and hold down the left mouse button and move the cursor in the desired direction.

Touchscreen: Use one finger to rotate the model in the desired direction.

Zoom In and Out

Mouse: Move the scroll wheel on your mouse.

Touchscreen: Move two fingers together to zoom out. Move them apart to zoom in.

Change point of view

Mouse: Click and hold down the right mouse button and move the cursor in the desired direction.

Touchscreen: Move three fingers in the desired direction.