How can I create a multi-story plan?
You're creating a multi-story plan. We recommend creating them next to one another on the zero level. This way, you can maximize clarity and navigate more quickly through adjacent levels.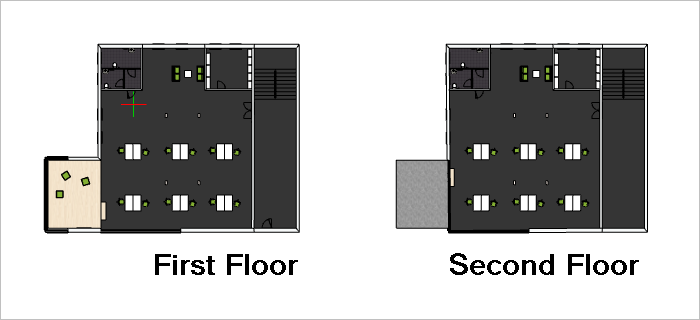 You also have the option to place each story on top of the other. When doing so, please keep the following in mind:
Draw separate walls for each floor. Walls that represent the total height of the house can not be split at the height of each story. That means you would not be able to edit the walls for each individual level.
When drawing an additional story, lock the elements from the level below to protect them from accidental actions. To do so, select the entire story, switch to the Edit tab and click Lock. You then have the option to Unlock when you are finished.
For each story, assign walls and room elements their own layer. By doing so, you can hide or unhide an entire story using the Layers dialog.
To ensure that the above wall is correctly placed on the story below, use a perspective view when drawing.

Intermediate floors that do not cover the entire story below can be constructed using drawing elements (rectangle, extrude). Alternatively, you can enclose the intermediate floor's space with walls that include breakthroughs. The second variation makes it possible to insert a floor.
How can I create a multi-story plan?

,